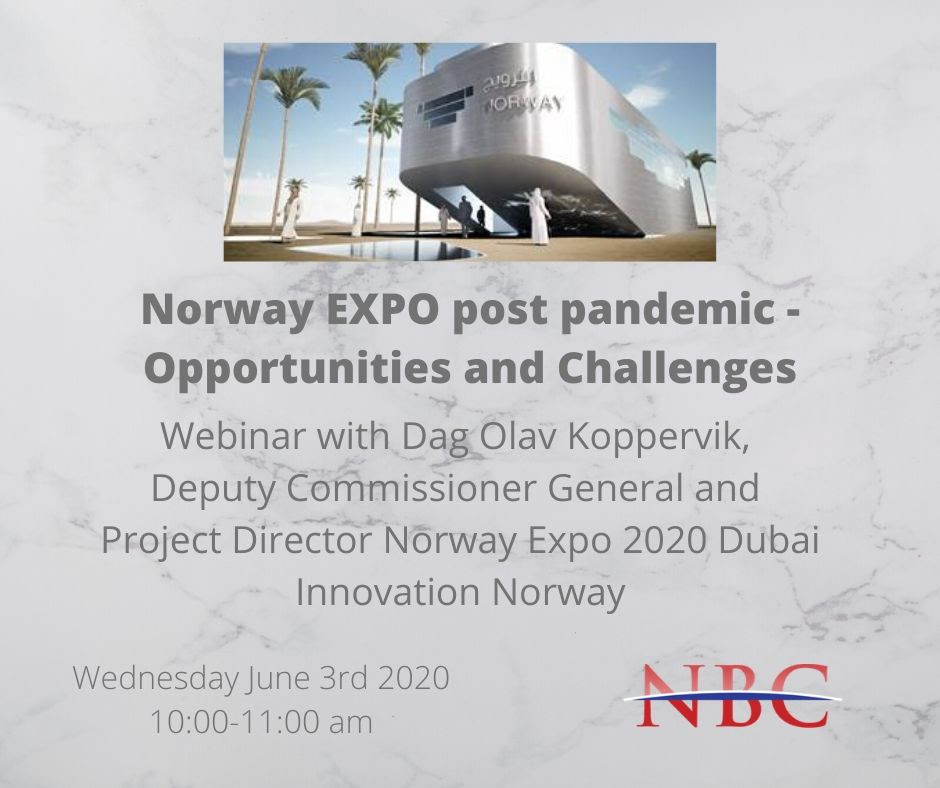 Norway EXPO post pandemic – Opportunities and Challenges
In light of the COVID-19 world crisis, the governing body of  the World EXPO, Bureau International des Expositions (BIE) Member States, voted in favour for postponing the EXPO 2020 Dubai by one year. The new dates for this global event are now 1st October 2021 to 31st March 2022. This delay allows all participants to safely navigate the impact of the COVID-19, and to focus on a collective desire for new thinking to identify solutions to some of the greatest challenges of our time.
Norway EXPO 2020 fully support the decision to delay EXPO 2020. In this Webinar, Dag Olav Koppervik -Deputy Commissioner General/Project Director Norway EXPO 2020, will present how Norway will use EXPO 2020 as the biggest and most exciting marketplace to take place post-pandemic. Topics will include:
Effects of postponement
Normalization of business
Trade and exchange of innovations
Technology and knowledge post COVID-19
COVID-19 impact and safety on site
Upcoming plans for Norway EXPO and EXPO 2020
Norway Expo 2020 is a project owned by the Norwegian Government and the assignment for planning, operation and decommissioning Norway at Expo 2020 has been granted Innovation Norway.
Speaker: Dag Olav C. Koppervik, Deputy Commissioner General and Project Director Norway Expo 2020 Dubai – Innovation Norway.
Dag Olav C. Koppervik joined Innovation Norway in 2014 where his first assignment was to stimulate innovation and development within the travel industry. In March 2018 Dag was nominated the project director for Norway Expo. Prior to joining Innovation Norway, Dag has gained extensive management experience through his career from both the maritime industry and the hotel and travel industry.
Practical information:
When: Wednesday 3rd June
Time: 10:00am – 11:00am UAE (GST) / 08:00am and 09:00am Oslo (CEST)
This is a free of charge webinar.
To register, please use the link below. In due time, before the webinar, you will receive a confirmation email with the link to join the webinar.
There will be a Q&A at the end of the webinar. You are welcome to send us questions in advance to info@nbcuae.org
RSVP by Tuesday 2nd June 3:00pm UAE (GST) / 1:00pm Oslo (CEST)