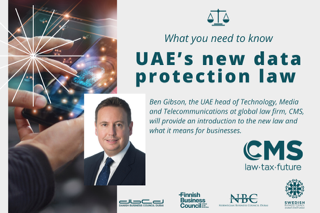 UAE's new data protection law – what you need to know
Together with the Nordic Business Councils, the Swedish Business Council and the Finnish Business Council are happy to welcome you to the first event of the year, regarding UAE's new data protection law.
The UAE has introduced a new data protection law which will affect most businesses operating in the country. The law adopts a number of concepts from the European GDPR. Previously, only DIFC and ADGM businesses, and certain entities in healthcare, finance and telecoms, needed to comply with ´European style´ data protection laws in the UAE but this will be changing.
Ben Gibson, the UAE head of Technology, Media and Telecommunications at global law firm, CMS, will provide an introduction to the new law and what it means for businesses. We will also look at some of the other general laws in the UAE which touch on privacy and the use of personal information.
Speaker Profile – Ben Gibson is a Technology lawyer recognised in the Legal 500 in the UAE. He specialises in complex commercial technology projects, including procurement, development and outsourcing, as well as IT licensing and data protection.  His clients in the Middle East have included Google, Cisco, the Dubai International Financial Centre (DIFC) Authority, stc (Saudi Telecoms Company) and the King Abdullah Financial District. Ben helped the DIFC to draft its Data Protection Law (Law No 5 of 2020).
Date: Tuesday 25th January 2022
Time: 8:00 – 10:00 am
Venue: Media One Hotel, Dubai Media City
Price: Free for members of the Nordic Business Councils
AED 100 for others.
Prices include a lighter breakfast and VAT.
RSVP before 23rd January by emailing: info@nbcuae.org