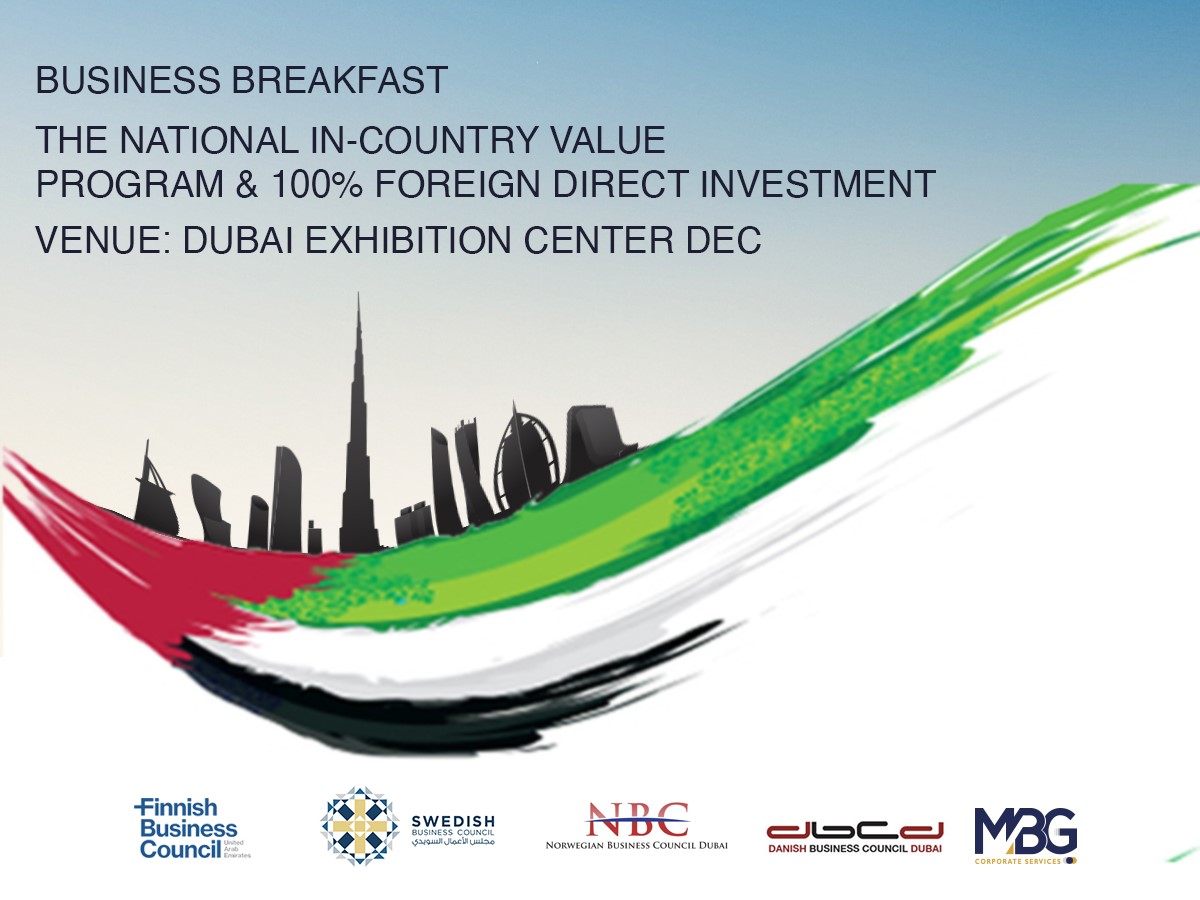 The National In-Country Value Program and Foreign Direct Investment
Welcome to the Business Breakfast which will cover the new law of 100% Ownership and National In-Country Value Program (ICV) and which is organised jointly with Swedish Business Councils corporate member MBG Corporate Services and the Nordic Business Councils. The event will take place at the new Dubai Exhibition Centre, right by Expo 2020 Dubai.
A big change for the entrepreneurial community and foreign investors is the new 100% Ownership Law of onshore companies. In Dubai and Abu Dhabi there are more than 2,100 commercial activities covering trading and industrial commercial activities which allows a huge mainstream of business scope to be 100% owned.
The other game-changer was on the 11th September, The Ministry of Industry and Advanced Technology (MoIAT) signed three separate memoranda of understanding (MoU) with Etisalat, Emirates Steel and TAQA, the Abu Dhabi National Energy Company, as the first three large national companies joining to mark their commitment to the ICV Program.
One way of strengthening one's relationship with the UAE's private sector and to encourage suppliers of goods and services to include higher Emirates content is the ICV Program. Any legal entity can take part in tenders with any of the participating entities (ADNOC, Aldar, Abu Dhabi Ports, ADDED, Mubadala, ENEC). Could the ICV Program be the answer?
So, what does this mean to you and your company? Attend our business breakfast to find out more.
Agenda:
8.15 Registration, networking and breakfast
8.45 Welcome note
8.50 Keynote speech
9:15 Market entry options & 100% FDI
9:45 National ICV Program
10.15 Thank you note
11.00 Tour of the Nordic pavilions at Expo 2020 Dubai (for those interested). Tickets are complimentary.
Date: Sunday 14th November
Time: 8:15 – 10:30 am
Venue: Dubai Exhibition Centre, South Hall 1, right next to Expo 2020 Dubai. Google Map
Price: Free for members of the Nordic Business Councils. AED 100 for pre-members.
Prices include breakfast and a day pass to Expo 2020 Dubai.
RSVP: Before 10th November by emailing: info@nbcuae.org
The event will follow the Covid-19 guidelines set by the Dubai Government