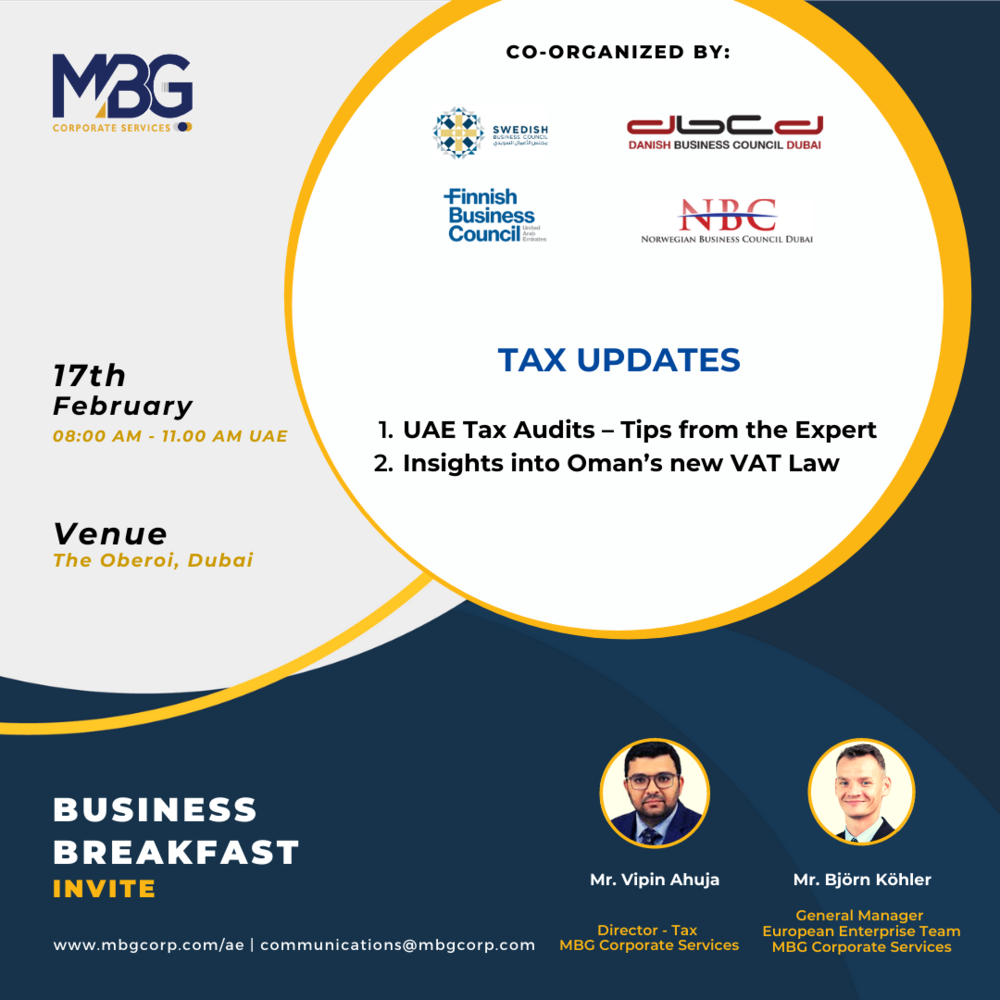 TAX UPDATES
Dear members and friends of NBC,
You are invited for a business breakfast with Swedish Business Council´s member MBG who have the latest updates around Corporate VAT in the United Arab Emirates and the Sultanate of Oman.
Part one – UAE Tax Audits, tips from the experts
It has already been three years since the VAT was implemented in UAE and regulations across all business sectors are in place. The FTA has the right to conduct a tax audit at any time with a five-day prior notice. Businesses in the UAE must therefore prepare for official audits in 2021. The MBG experts will explain what you can expect during the tax audit, what the procedures are, records to be maintained and penalties for Non-Compliance and how to make your organization FTA Audit ready.
Part two – Insights to Oman´s new VAT law
The Sultanate of Oman will implement VAT from the early days of April 2021. Businesses with activities in Oman will need to consider the implications of the introduction of VAT on their transactions and ensure that they are ready to comply with the new VAT requirements by April 2021. Apparently, it would be a crucial time for all type of businesses that are operating and planned to operate in Oman to plan for implementation as soon as possible. MBG's Oman VAT implementation team will provide businesses with an overview of the key considerations for day one compliance.
Date: Wednesday 17th February
Time: 8:00 – 10:00
Venue: Oberoi Hotel, Business Bay, Dubai
Price: Free for members of the Nordic Business Councils (Young professionals, Professionals and Corporate Members), AED 50 incl VAT for social members and pre-members.
Including a lighter breakfast
RSVP before 14th February by emailing: info@nbcuae.org