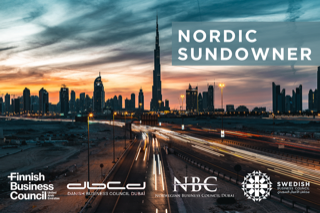 Nordic Sundowner
The Nordic Sundowner is back! Let´s Network!
We and our economy are driven by energy and politics– they are intertwined in more ways than we can imagine. Back by popular demand Robin Mills will share his insights and sharp analysis on the business outlook in the post-COVID era and the emerging role for hydrogen. He will also address Gulf decarbonization efforts – where is the hype, where the reality? Robin is an industry expert, author in energy & politics and columnist at the National.
Program:
18.15 Registration and refreshments, Webinar meeting room 42nd floor
18.30 Talk by Robin Mills, expert on Middle East energy strategy and economics
19.30-21.30 Drinks and mingling with the Nordic business community at Qwerty bar
Date: Wednesday 29th September
Time: 6:15 – 9:30 pm
Venue: Webinar Meeting room 42nd Floor, Media One Hotel, Media City, Dubai. Followed by networking at Qwerty Bar on the ground floor.
Price: AED 70 for members of the Nordic Business Councils and AED 150 and pre-members. Prices includes talk, a drink and canapés as well as VAT.
RSVP before 26th Sept by emailing: info@nbcuae.org
Parking: Free valet parking available