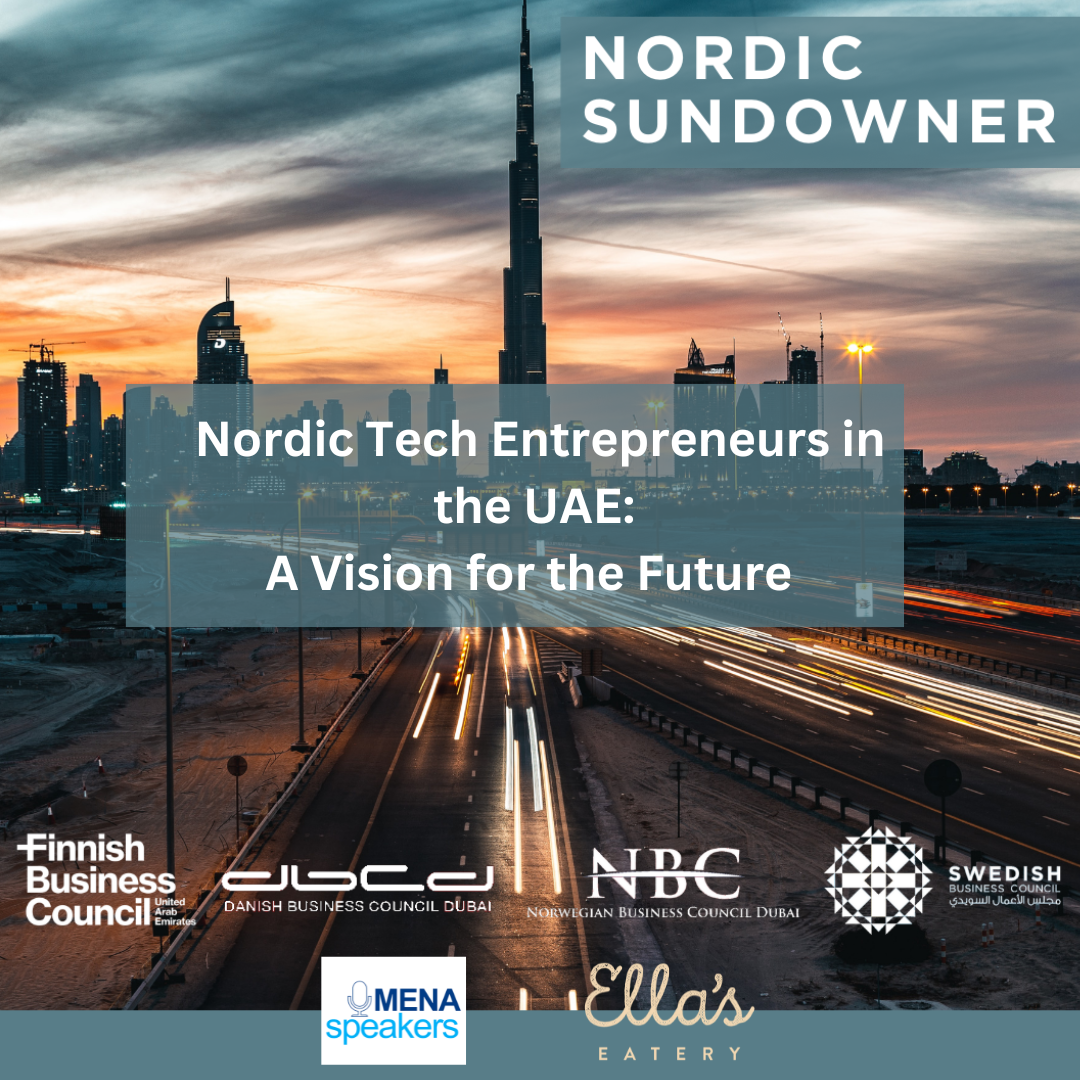 *FULLY BOOKED* Nordic Sundowner – Nordic Tech Entrepreneurs in the UAE: A Vision for the Future
The Norwegian Business Council is proud to host the next Nordic Sundowner and we welcome you to enjoy an evening of networking and present to you Tech Entrepreneurs in the UAE: A Vision for the Future. A Fireside chat with Thea Myrvold of GetBee and Vilhelm Hedberg of ekar – Hosted by Saana Azzam, Award-Winning Economist and CEO of the Middle East leading speaker's bureau, MENA Speakers.
GUEST SPEAKERS: 
Thea Myhrvold
Thea is currently the founder and CEO of Getbee, a software enabling brands to bring the human touch into the online sales process. A third time founder with a previous exit, she has over 14 years in digitally transforming industries like retail, learning and healthcare.
Thea has been recognized with numerous awards including being one of the 10 faces of expo2020, The Cartier Woman's Awards, INC. Arabia's Top Female Startups, Mercedes Benz Brand Ambassador and top 10 Linkedin Power Profile all under the age of 30. Regularly quoted in international media in Forbes, Bloomberg, Skynews, The Financial Times, The BBC, Gulf News, to name a few.
With both Arabic and Norwegian heritage, her international experiences and perspective has shaped how she aims to scale global impact. She is an advocate for women and diversity in tech.
Vilhelm Hedberg
Vilhelm Hedberg, a Norwegian entrepreneur, is widely recognized for his expertise in scaling businesses in the Gulf region. As a successful second-time founder, having already achieved an exit with his first venture, and has since raised over $50 million USD for his current company, ekar, which is the Middle East's leading personal mobility company. Vilhelm's entrepreneurial acumen is well-established, and he is frequently invited to speak at global events, underscoring his reputation as a seasoned and accomplished entrepreneur.
Saana Azzam
Saana Azzam the founder MENA Speakers is also known as a "Chief Inspirational Officer" for businesses globally, Saana Azzam is an international award-winning economist, Forbes contributor, and CEO of The Middle East leading speaker's bureau, MENA Speakers.
EVENT DETAILS:
Date: Thursday 27th of April
Time: 7:30 pm – 9:30 pm
Place: Ella's Eatery, Palm Views East, Palm Jumeirah 
https://goo.gl/maps/qsmpr3WLLRcWeN6B
Price: Free for Members of the Nordic Business Councils, AED 100 for Non-members.
Parking: Free
RSVP to info@nbcuae.org
Welcome drink on arrival.
An exclusive Scandinavian menu have been created by Ella's Eatery for the Nordic Sundowner.