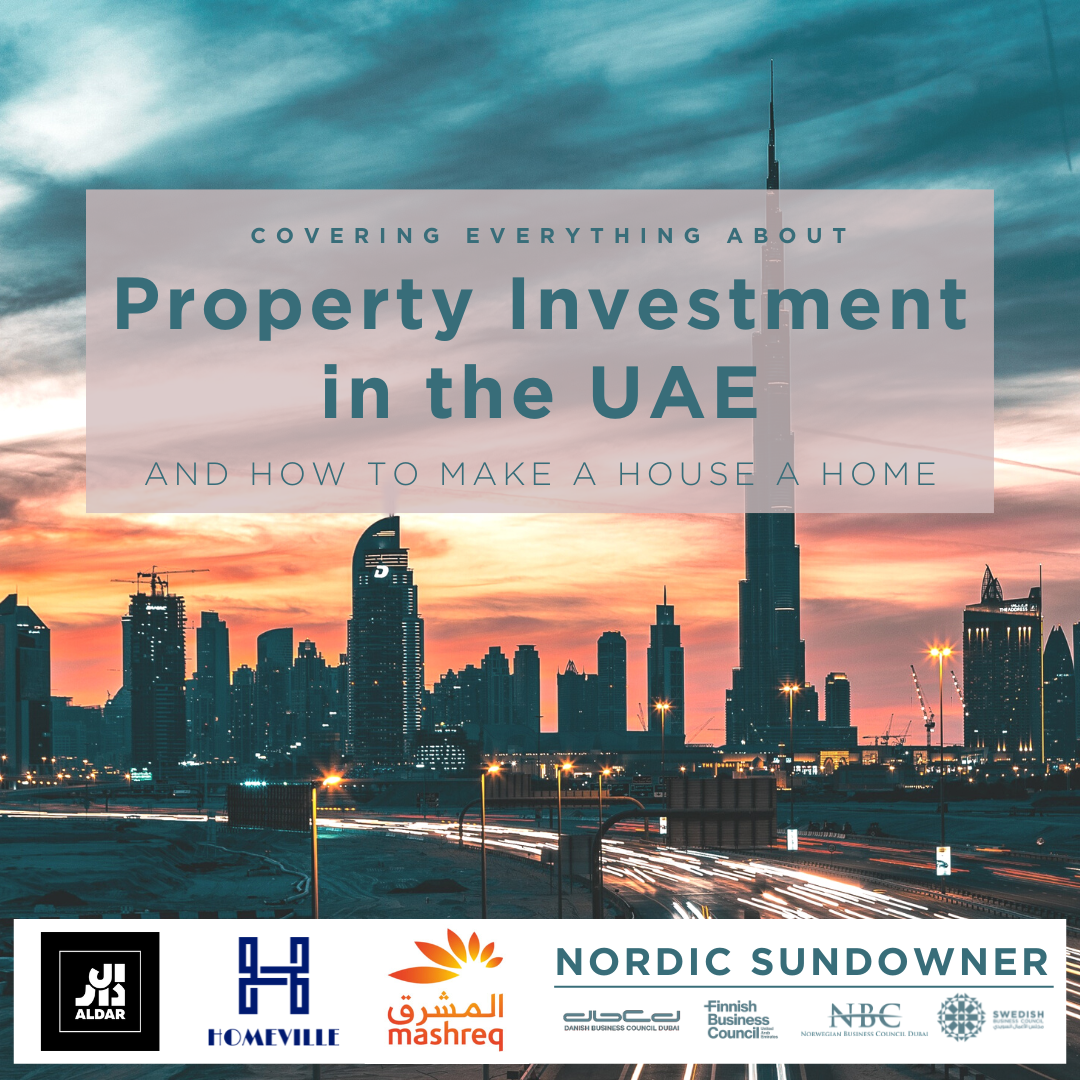 Nordic Sundowner
The Norwegian Business Council is proud to host the next Nordic Sundowner and we welcome you to enjoy an evening of networking while learning about Property Investment in the UAE and How to make your house a home.
First part – Property investment in the UAE
We are pleased to partner up with SBC´s corporate member and real estate agency in Dubai, Homeville who will inform us about the important insights of finding the right property to buy, what to look out for and where to best invest. We have also invited one of the largest property developers in Abu Dhabi, Aldar who will talk about the developments in Abu Dhabi and what to look out for in the near future. The third partner of this event is Mashreq, one of the pioneering financial institutions in the UAE for over five decades. As the region's oldest private bank, Mashreq will bring in significant insights into the mortgage process while buying a property in the UAE.
Second part – How to make a house a home
The Nordic countries are famous for their neat and practical design and we have invited several partners to showcase their products and services during the evening.
SPEAKERS:

Mr Ziad Dibo, Vice President Dubai and International at Aldar
Ziad has over 22 years of experience in Sales and Business development in the Middle East. He hold a master's degree in International Business of Notre Dame University. Ziad joined Aldar in the beginning of 2022 and will drive business from Dubai and Internationally.
Mrs Rasha Nasr, Managing Director at Homeville.
Rasha founded Homeville in 2020 and has since then driven property sales in Dubai with over AED one billion in transactions. The team at Homeville is dedicated to finding the best opportunity for their clients and supporting them throughout the process.
Mr Srinivasan Padmanabhan (Srini), Business Head – Mortgages, Mashreq
Srini has over two decades of experience in the banking industry across diverse geographies, segments and products including Mortgages, Retail liabilities, SME business, Wealth Management, Employee Banking and Merchant Acquisition. He has been with Mashreq since 2015, heading one of the largest mortgage portfolios in the UAE market. The role entails direct management of mortgages product, portfolios, sales and collection functions.
EXHIBITORS- How to make a house a home
EVENT DETAILS:
Date: Thursday 27th October
Time: 6:30 pm – 9:30 pm
Venue: Grand Plaza Mövenpick Media City, Dubai. 4th Floor, Bytes restaurant.
Price: Free for members of the Nordic Business Council and AED 50 for pre-members.
Price includes: One house beverage and canapés
RSVP: before 25th October via this link.
Complimentary valet parking is available