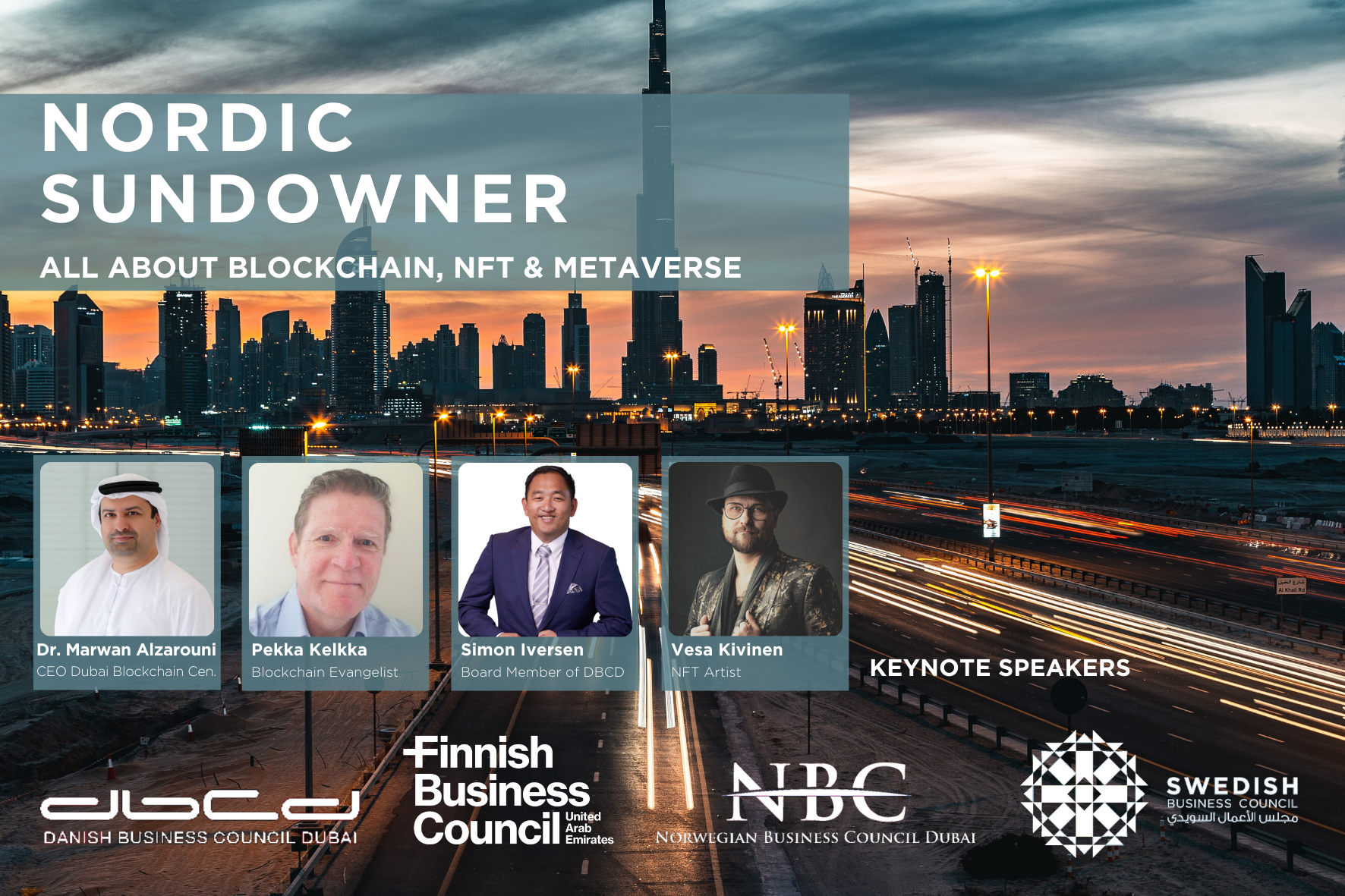 Nordic Sundowner
We would like to welcome everyone for the first Nordic Sundowner of 2022. We are happy to announce together with the Danish Business Council a great program with exciting keynote speakers that will guide you into the technology of blockchain and give you great ideas to use and implement it in your business.
Program
6pm: Registrations and cocktail/mocktail
6.30pm: Welcome and short introduction to blockchain by Simon Iversen, Board Member DBCD
6.40pm: What is Blockchain? By Pekka Kelkka, Crypto and blockchain evangelist
6.55pm: Blockchain regulatory in UAE, licenses, established blockchain projects and opportunities for businesses – By Dr. Marwan Alzarouni, CEO of Dubai Blockchain Center
7.20pm: How to combine NFT, art & Meta Verse – by Vesa Kivinen, NFT artist and digital pioneer
7.35pm: Thank you for your attention
After the event, guests are welcome to enjoy the different areas of the Danish Pavilion.
7.45 – 8.50 pm:  Vajro VR NFT art – showcase on first floor
7.45 – 9.50 pm: *Networking Dinner at De 2 Have (Danish National Dish – Non-Halal "Stegt flæsk med persillesovs")
7.45 – 11.30 pm: Happy hour in the bar for all guests.
Date: Thursday 24th February
Time: 6 pm
Venue: Danish Business Pavilion, Mobility District at Expo 2020 Dubai
Price: AED 60 for members of the Nordic Business Councils, AED 110 for Pre-members (Limited seats)
Price includes: Cocktail/Mocktail, snacks and an entry ticket to EXPO 2020 Dubai for those who need.
RSVP: before 21st February to info@nbcuae.org
*AED 150 Networking dinner – Danish National Dish (Non-Halal) All you can eat. Book your table directly via info@restaurantde2have.dk
Request for Halal and veg options.
Welcome