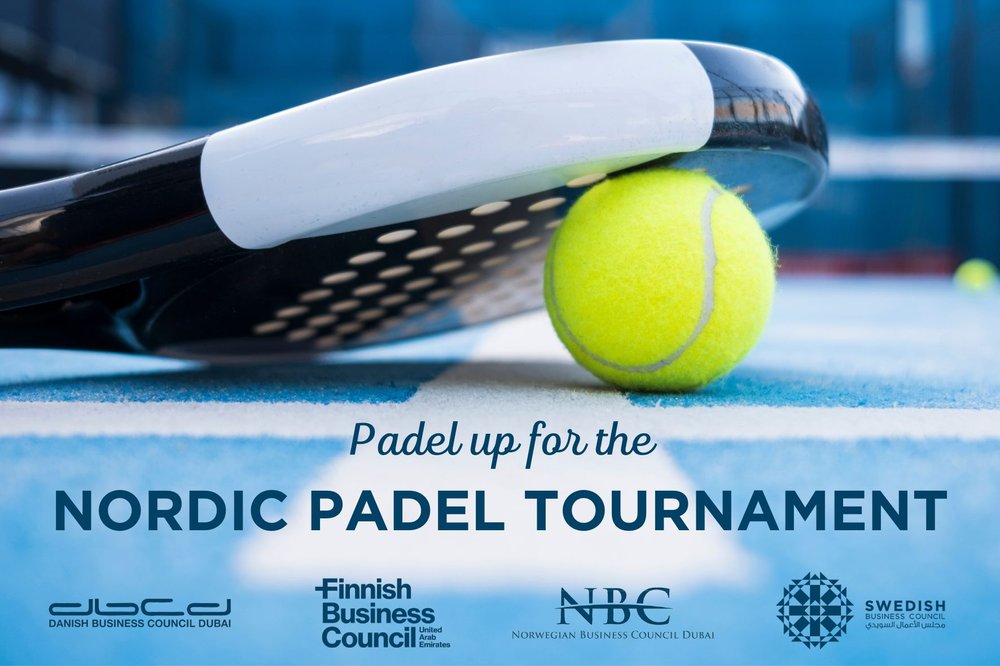 Nordic Padel Tournament
Warm welcome to participate in the Nordic Padel Tournament spring 2023! A great afternoon and evening to play padel while networking with the Nordic community. We encourage you to invite clients, colleagues and of course friends for a fun afternoon and evening when we crown the Nordic masters of padel.
Date: Friday 10th March
Time: 1pm registration and at 2pm the matches will start. The event will end at approx 8pm
Venue: Emirates Golf Club – Real Racquet Academy (RRA). (Outdoors).
Price: AED 200 per person for members of the Nordic Business Councils and AED 300 per person for pre-members. You may sign up as a team of two or as an individual. If you sign up as an individual, we will do our best to find you a partner. Members of the Nordic Business Councils have priority.
Prices include the tournament, racquet, balls, water, tea, coffee and wraps.
If you enter the tournament, kindly ensure to stay until the end (8pm).
LEVELS
Ladies and Men will play separately
– Ladies, minimum level D+ and up
– Men, minimum level D+ and up
Please note that all players have to have played padel before.
TO PLAY
1. Check your level according to RRA standards here.
2. Register your team / yourself via this link here before the 24th February (including your RRA level).
3. Payment
Pay directly on the registration page if you are registering as a team. If you register as an individual player, we will send you a payment link once we have found you a partner.
After the 3th March any cancellations will not be refunded.

SPONSORSHIP OPPORTUNITIES
Be an important sponsor or partner of this event. Click below for more info.