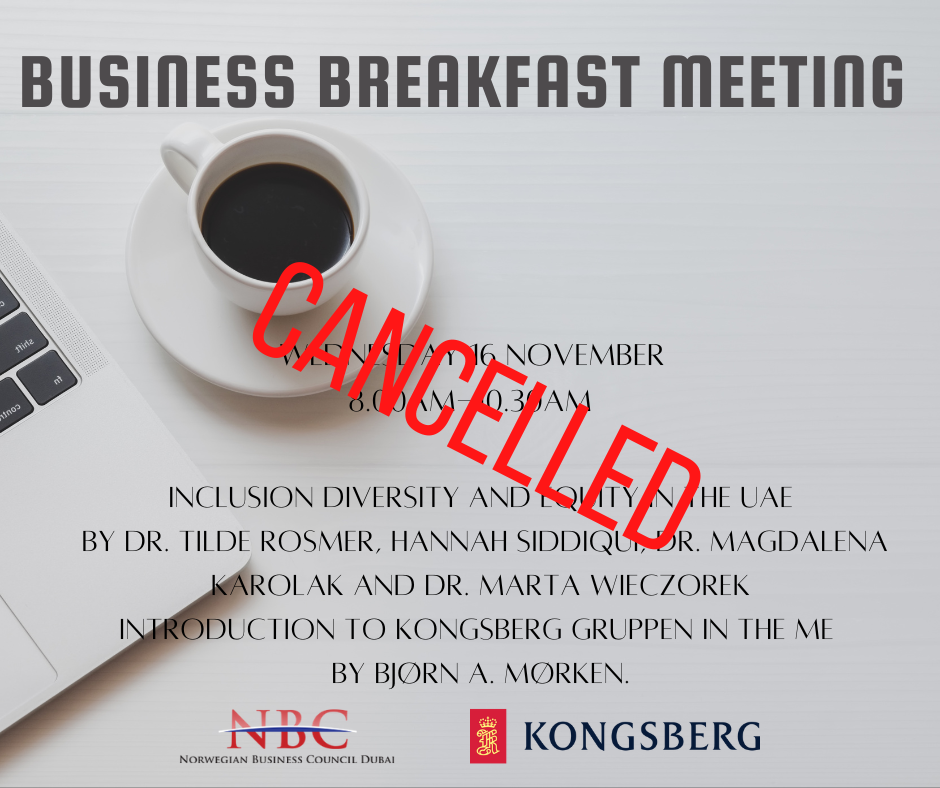 Business Breakfast Meeting
-Cancelled-
NBC is delighted to invite you to our next business breakfast meeting 1
6th
of
November.
08:00-08:30 Registration and breakfast
08.30-09:00 Inclusion Diversity and Equity in the UAE by Dr. Tilde Rosmer, Hannah Siddiqui, Dr. Magdalena Karolak and Dr. Marta Wieczorek*
09.10-09.40 Introduction to Kongsberg Gruppen in the ME by Bjørn Andreas Mørken.  
Opportunity for discussion and questions after the presentations.
Date: Wednesday 16th of November
Venue: The Norwegian Seaman's Center Dubai
Price: Free for NBC Members, AED 100 for non-members.
RSVP: Before 11th of November by emailing: info@nbcuae.org
*Kaleidoscope DEI Consulting (KDC) firm brings together a panel of thought leaders and academics from the field of diversity and inclusion in the Middle East to look at what the future face of the UAE work force looks like and to assess what businesses can do to win the competition of attracting and retaining the right talents.
Through an informal Q&A session Hannah Siddiqui, Managing Principal (KDC) will ask the panel of experts including Dr. Tilde Rosmer, Dr. Magdalena Karolak and Dr. Marta Wieczorek, all professors from the Humanities and Social Science Department at Zayed University, to share their experience and research on gender-equity and the labor laws in the context of the UAE workplace.