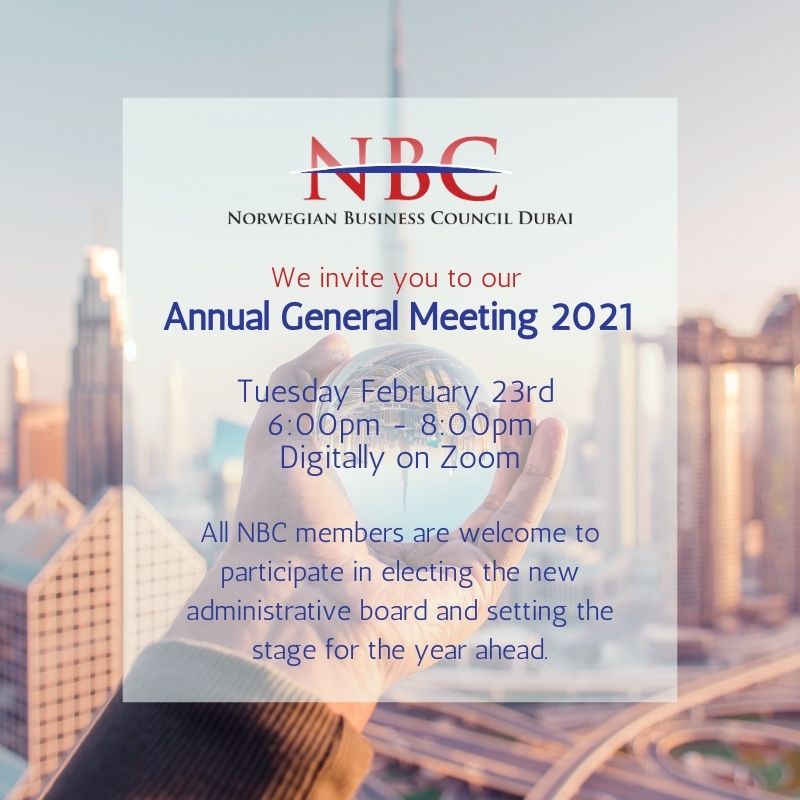 Annual General Meeting 2021
You are invited to attend NBC´s Annual General Meeting 2021
Date: Tuesday February 23rd 2021
Time: 6.00pm – 8.00pm
The meeting will take place digitally on Zoom, and a link will be provided closer to the event. It is open for everyone, but only members can vote.
The following will be the agenda for the AGM:
Welcome by the president
Members and sponsors update
Finance update
Summary of 2020
Activites 2021
Introduction of new admin
NBC board members election
NBC is managed by a board of directors composed of minimum 7 to maximum 9 members. All members of the board are to be elected at the AGM.
IMPORTANT: NBC is currently looking for 4-6 new board members, given that those who go for re-election keep their places. Nominations/proposals for the board of directors can be sent to the administrative officer of NBC at the latest one week before the AGM, Tuesday February 16th.. Send in your nominations now to info@nbcuae.org
All board members must speak Norwegian.
A complete list of the nominees will be sent out prior to the meeting.
All individual members of NBC have one vote. Please note: a paid membership is mandatory to be able to vote. Corporate members can assign up to two individual persons as its representatives, and thus each company can have up to two votes (regardless of the size of the company).
If you wish to renew your membership or sign up for a new one prior the AGM, please send an email to info@nbcuae.org 
Please RSVP as soon as possible to this event and before February 22nd, by emailing: info@nbcuae.org